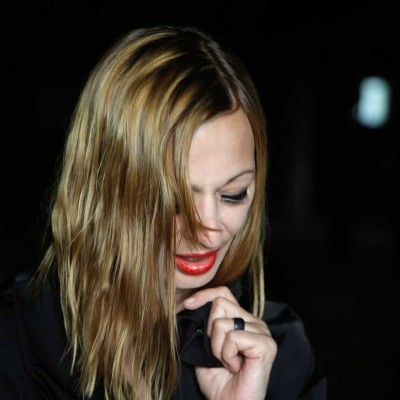 ---
Weblinks
------------

---
Booking
----------

---
Gudrun Gut
---
Gudrun Gut has been an activist in the Berlin underground scene since the early 80s -all the way from post-punk through techno and on into indietronics. She was a founding member of lengendary bands such as Mania D., Einstürzende Neubauten, Malaria! and Matador. In 1991 she started a spoken word, music and multimedia project, Miasma, together with Myra Davies. In 1995 her album "Members of the Oceanclub" was released and with it came a strong connection to the club scene, live concerts dnd dj gigs.
Since 1997 she has been doing the "Oceanclub Radio Show" on Radio Eins with Thomas Fehlmann. In the same year she founded the label Monika Enterprise with a focus on supporting the development of female artists. (www.monika-enterprise.de). In the following years she hosted many events, both large and small, as well as festivals with the OceanClub Team – markeB for example – with the goal of reflecting and consolidating the Berlin music scene. (www.oceanclub.de)
Her solo album "I Put A Records On" came out in 2007 with resounding positive feedback from press and fans both in Germany and internationally. Many concerts throughout followed the world – e.g. in USA, Russia, China, New Zealand, Australia, Skandinavia, UK, France, Italy, Spain etc.
In 2009 the collaboration with Antye Greie started under the Greie Gut Fraktion moniker followed by the albums "Baustelle" and "Rekonstruktion" as well as concerts worldwide.
Work on a new solo album started in 2011, "Wildlife" is released October 2012.
www.gudrungut.com
A quote from the prestigious UK magazine "The Wire"
"This is a story about a "geniale dilettante", a punk and a No Waver and an early adopter of computer pop; a girl from German heatherlands who moved to Berlin to become one of the city's central figures -feminist agitator, festival organizer, entrepreneur. Plus of course musician, performance artist, DJ, radio presenter, club organizer, cultural ambassador and label owner. She has done all of this largely by maintaining her independence. Not in the rejectionist strain that characterizes knee-jerk American individualism, but rather by creating and attending to niches and spaces of possibility in the interstices and the margins."
For Press see Albums
---
Tour Dates
11/09/2018

True Sories Part II DJ Set

Galerie Max Hetzler Goethestrasse https://www.maxhetzler.com/exhibitions/true-storiesbr-show-related-era-eighties-part-ii-curated-peter-pakeschmiroslaw-balka-clegg-guttmann-mathis-esterhazy-gunther,
Berln,
DE

---

12/06/2018

Heroines of Sound

Hau - https://www.facebook.com/events/606078126455625/,
Berlin,
DE
---