SKM60 at POP-KULTUR Festival Berlin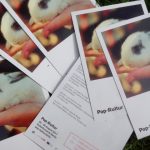 We celebrate 20 years togehter!
Shitkatapult and Karaoke Kalk and Monika.
3 x 20 = 60. also SKM60
SKM60 at PRATER BERLIN, Kastanienallee 7-9 part of www.pop-kultur.berlin
23.08.2017, ab 19:20 Uhr, Prater
DJ: Strobocop
Live: Special Guest (tba shorty before), Monika Werkstatt (Lucrecia Dalt, Danielle de Picciotto, Sonae, Pilocka Krach, Gudrun Gut), Cristian Vogel
24.08.2017, ab 19:20 Uhr, Prater
DJ: Daniel Meteo + special guest Khan of finland
Live: Prairie, Jeff Özdemir & F.S. Blumm & Friends, Masha Qrella
25.8.2017, ab 19:20 Uhr, Prater
DJ: Gudrun Gut + special guest Jackie A.
Live: Ritornell, Barbara Morgenstern, T.Raumschmiere
und ein TALK im Haus für Poesie mit Daniel Meteo, Thorsten Lütz und Gudrun Gut:
25.8.2017, 18:00-18:40
Jeweils 20 Jahre nun gibt es die drei unabhängigen Labels Karaoke Kalk, Monika Enterprise und Shitkatapult. Ihr zusammengenommenes musikalisches Spektrum erstreckt sich von Pop zu Techno, von Minimal Music bis zu Electropunk. Seit Jahren sind alle drei Labels in Berlin angesiedelt und zudem eng miteinander verknüpft: Regelmäßig arbeiten Acts des Trios miteinander.
JOIN US AND CELEBRATE THE MUSIC!