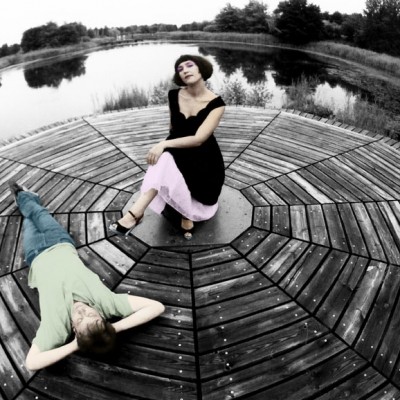 ---
Weblinks
------------

---
Booking
----------

---
Chica and the Folder
---
1990 Immigrated from SANTIAGO DE CHILE to Barcelona, later to Berlin
1995 Starts as DJ
1996 Becomes "member" and DJ in GUDRUN GUTs and THOMAS FEHLMANNs well known OCEAN CLUB.
1997 OCEAN CLUB gets its own show on Radio Eins, Berlin. Chica does a set twice a month.
1998 Together with some friends and her brother Martin Schopf, alias DANDY JACK, organises the first SIEG ÜBER DIR SONNE international party event in Santiago de Chile.
1999 Matrin Schopf founds the Ruta 5 label – a project which Chica has been involved with since. The label supports electro music in south america and includes releases from LUCIEN NICOLET, RICARDO VILLALOBOS, JORGE GONZALES, A & P BUCCI etc.
2000 The first compilation on RUTA 5 appears: "Austral"
2001 Resident, together with MICHELLE GRINSER, at the FORTINA
label night in the PANORAMABAR/OSTGUT, Berlin.
2002 The second RUTA 5 compilation is planned under Chica Paula supervision. Featuring, among others, the artists MISS DINKY, LUCIEN NICOLET, R.VILLALOBOS, LOS DOS/ELECTRO MUSIC DEPARTMENT,THOMAS FEHLMANN, GUDRUN GUT,MARTIN GRETSCHMANN (CONSOLE ) etc.
2003 Remix for Contriva "FOXY EP" on Monika Enterprise. Album production together with Max Loderbauer for Monika Enterprise.
2003 Album "42 Mädchen" comes out in september on Monika Enterprise.
References (Selection):
WMF, Berlin – Maria am Ostbahnhof, Berlin | Casino, Berlin – Ostgut, Berlin -Voksbühne, Berlin | Tresor,Berlin – Love Parade 1998 – Ultraschall, München – Queen Elisabeth Hall, London – Radio X, Frankfurt/Main – Kultur Steirischer Herbst, Österreich | Rote Fabrik Zurich- La Feria,Santiago de Chile, and more….
---